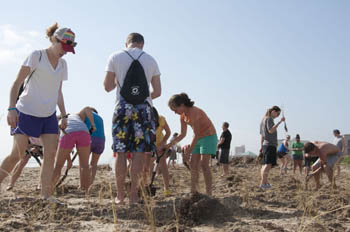 The 18th Annual Big Shell Beach Cleanup will be held this coming Saturday, February 23, 2013. The event will commence at 07:00 a.m. (please arrive at least 30 minutes prior for group assignments) and volunteers will be back at the Malaquite Pavilion by 2 p.m.  4 wheel drive vehicles and operators, trailers for hauling trash and walking volunteers are all needed and welcomed.  Walking volunteers will be afforded transport to and from the work area.
Water, sodas and drinks will be available in the work area and at Malaquite after the event but if you feel like you might want something more feel free to bring it.Come and join the City of South Padre Island and the Surfrider Foundation for another Dune Restoration Planting. 
For more information, please visit www.friendsofpadre.com.